IOD Air Cannons - Video Clips!
---
Please click on the following pictures to few the video clip!
First Set

This first set of video clips were taken Saturday, June 12, 1999. I FINALLY got them editted and downsided to smaller file sizes. The computer case in this video set is one of the old IBM flip top cases. It's been taking up space for a long time and what better way to get rid of it then to propell high speed potatoes at it! :-)
IODM01/02: Two potatoes, one was a bit faster...
IODM02: A nice smack!
IODM01: The solenoids didn't fire correctly...
IODM02: Flipped the case over the log.
IODM02: The PC speaker was completely destroyed!
IODM02: The cover performs a nice flip!
IODM02: The front is shattered!
IODM02: The bolt was forceably removed...
IODM02: A weird cardboard shot.
**! DO NOT ATTEMPT THE FOLLOWING SHOTS !**
| | |
| --- | --- |
| | |
| IODM02: 5ft PVC ram rod shot at case! | IODM02: . . . 3ft PVC ram rod shot at case! |
| | |
Second Set
I only have time to upload one of the clips from this set.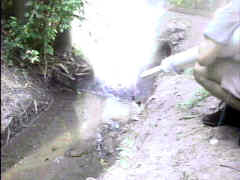 SPLASH!!
---
Copyright © 1997-2018, Imperium of Darkness BBS